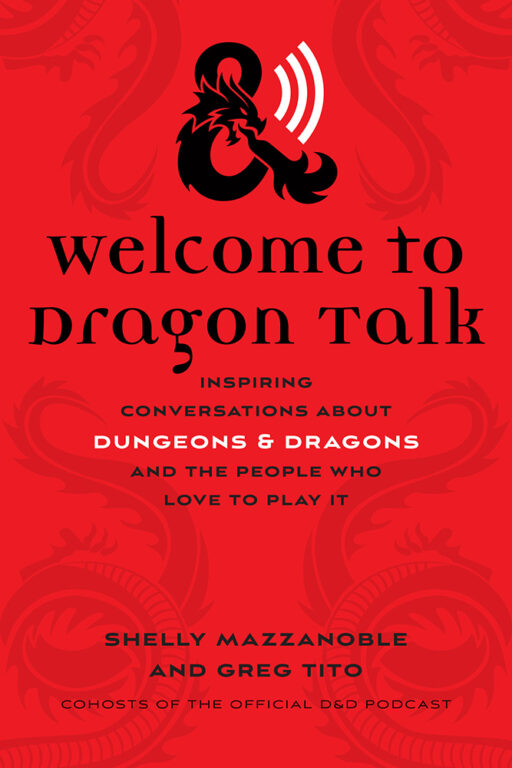 Welcome to Dragon Talk: Inspiring Conversations About Dungeons & Dragons and the People Who Love to Play It
Coming December 5!
Available for Preorder now!
If it seems like everyone you know is playing Dungeons & Dragons, it's because they are! After nearly five decades, the iconic roleplaying game is more popular than ever. Famous Hollywood actors and directors, therapists, educators, politicians, kids, parents, and grandparents all count themselves as fans. In Welcome to Dragon Talk, hosts of the official D&D podcast Shelly Mazzanoble and Greg Tito and their surprising guests show how this beloved pastime has amassed a diverse, tight-knit following of players who defy stereotypes. 
 
Shelly and Greg recount some of their most inspiring interviews and illuminate how their guests use the core tenets of the game in everyday life. An A-list actor defends D&D by baring his soul (and his muscles) on social media. A teacher in a disadvantaged district in Houston creates a D&D club that motivates students to want to read and think analytically. A writer and live-streamer demonstrates how D&D–inspired communication breaks barriers and empowers people of color. Readers will see why Dungeons & Dragons has remained such a pop culture phenomenon and how it has given this disparate and growing community the inspiration to flourish and spread some in-game magic into the real world.
"Shelly and Greg are the Regis and Kathie Lee of Dungeons & Dragons (or Kelly and Ryan, for the younger generation). They've been hard at work collecting the backstories of all the game's biggest names from long before its modern renaissance, and this book is a fun and heartfelt peek behind the curtain at the game's current champions and eccentric personalities."—Joe Manganiello, actor, writer, producer, D&D collaborator, disciple of Tiamat 
"From education to interpersonal growth to creating lasting friendships and more, the many uplifting values of D&D are recounted wonderfully by Shelly and Greg, who have grown with the game and with their many Dragon Talk interviews. This is a truly enjoyable, uplifting, and educational read . . . just like playing D&D!"—R. A. Salvatore, author, Glacier's Edge
"Greg and Shelly know that a game is only as good as its gamers. Through Dragon Talk they've been able to boost voices and raise awareness on how creative and inventive the Dungeons & Dragons community can be. Always engaging and entertaining, Dragon Talk is at the forefront of what D&D is right now and hopefully will be far into the future, and Welcome to Dragon Talk is a gladly received addition."—Jim Zub, comic writer, Avengers, Conan the Barbarian, Dungeons & Dragons
"Welcome to Dragon Talk highlights the fascinating history of Dungeons & Dragons and the multitude of ways it continues to impact the cultural zeitgeist. Mazzanoble and Tito have expertly crafted this book of essays . . . bring[ing] a fascinating examination of the game—part historical survey, part airing of skeletons, part cheerleader. This book will appeal to many different audiences and is accessible for those who have never played and want to learn why people love to talk about D&D."—Booklist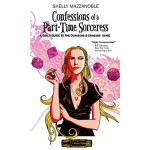 Confessions of a Part-Time Sorceress: A Girl's Guide to the Dungeons & Dragons Game
ENnies Award Winner!
Origins Award Nominated!
Praise for Confessions of a Part-Time Sorceress:
A Girl's Guide to the Dungeons and Dragons Game

"Shelly Mazzanoble's easygoing style puts the stereotypes to rest, and gives readers the basics of the Dungeons & Dragons experience. Reading the book reminded me of the joy of my first game session. Highly recommended!"
—R.A. Salvatore, The New York Times best-selling author of The Legend of Drizzt
"This book is one of the best introductions for D&D I have ever read. It conveys not just the feel of the game, and why every sensible female of any species should play it, but it's FUN! A cool, hip, and cutting-edge welcome mat for the game." —Ed Greenwood, creator of The Forgotten Realms and acclaimed fantasy author
"Who says boys should have all the fun? Not Shelly Mazzanoble, anyway. With good humor and a swing or two of her mace, she advances fearlessly on the mostly male bastion of Dungeons & Dragons and comes through it with nary a scratch on her. For the girl gamer who's been itching to slay ogres with the best of 'em, this is the book for you."
—Peter Archer, author of The Great White Wyrm
"Fresh, funny, and smart. I was expecting [the book] to be informative, but I wasn't expecting it to be so very entertaining. The next time I meet a woman that I think might be interested in playing D&D, I'm going to give her a copy of this book before I do anything else. It really covers all the bases and introduces the game with a perspective that is fun and unique, but still completely accurate and helpful."
—Monte Cook, game designer
"I had some gamer friends over the other day flipping through the [book], and they were all laughing their heads off. My husband and I have also enjoyed reading bits of it out loud to each other. . . . ."
—Spring Lea Henry, library consultant and former editor of YAttitudes, ALA's journal for YA librarians
"Shelly Mazzanoble gives D&D the make-over it deserves—watch out Tyra!"
—J. Marin Younker, Librarian, Seattle Public Library
Most Dungeons & Dragons game players are men, yet storytelling and roleplaying come so naturally to women. So where are all the female gamers? The answer is – everywhere!
With tongue-in-cheek humor and plenty of self-mockery, Shelly Mazzanoble chronicles her unexpected descent into the world of Dungeons and Dragons. Shelly's a girly-girl through and through, but when a friend asks her to join his D&D game as an 134-year-old sorceress named Astrid Bellagio, she politely agrees, never expecting to actually like it. In spite of all the stereotypes—or maybe because of them—she actually finds herself getting game.Part confessional, part how-to guide, this book delves into the basics of the most popular roleplaying game, explaining how to create a character, outlining how to play—even suggesting D&D-themed snacks (Magic Missile Meatballs, anyone?)—all the while taking a light-hearted look at the myths and realities of gamer stereotypes.
Read an excerpt here.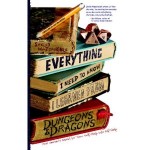 Everything I Need to Know I Learned From Dungeons & Dragons: One Woman's Quest to Trade Self-Help for Elf Help
Who would have thought that the answers to life's biggest questions can all be found in the greatest role-playing game of all time? Shelly Mazzanoble, that's who! With her signature wit and down-to-earth writing style, Shelly heads down the self-help aisle, exploring universal issues surrounding careers, romance, spirituality, and many more, drawing hilarious yet surprisingly insightful lessons from D&D. For anyone who has ever contemplated a twenty-sided die, this book will make you laugh out loud—and leave you thinking about Dungeons & Dragons and gamer culture in a whole new way.
Praise for Everything I Need to Know I Learned From Dungeons & Dragons:
"Mazzanoble is one brave she-warrior. In Everything I Need to Know I Learned from Dungeons & Dragons, she delightfully bares the mundane details of a 21st century woman's life—from religion to love, domesticity to dietary habits—refracting her vision through the 20-sided prism of D&D. All the while, she battles and playfully defeats her most fearsome foe, her mother. Huzzah!"
—Ethan Gilsdorf, author of Fantasy Freaks and Gaming Geeks
"Looking at life as one big (adventuring) party, Shelly Mazzanoble shows us 'how she rolls,' by meeting her every day encounters with self-effacing charisma and plucky fortitude. If Carrie Bradshaw were a bard, this might be her tale. The characters we create in D&D must work harmoniously in a group and open themselves to unique philosophies, principles and strategies in order to help them overcome their obstacles. Applying that same open-mindedness to her daily life, Shelly shares with good humor her attempt to become 'Master of her own Dungeon,' as she goes out-side her comfort zone to earn real-life experience and reach new levels of potential."
—Dan Milano, writer of TV series Robot Chicken
"Everything I Need To Know I Learned From Dungeons & Dragons by Shelly Mazzanoble is a wonderful take on a how to book on life that centers around Dungeons & Dragons." Read more
—GeekMom.com
"Subtitled "One Woman's Quest to Trade Self-Help for Elf-Help," its a funny memoir which explores life's challenges through the wisdom of a gamer, with lots of D&D-inspired life lessons like "never leave a dungeon until you've explored every corner" and "kill 'em with enthusiasm, eagerness and expertise." Read more
—David Ewalt, Forbes.com
"I thought this book was hilarious and even though I don't know much about D&D, Mazzanoble's definitely got the relatable girl-next-door vibe that makes her easily relatable no matter if you love roleplaying games or not. And since the book is largely about family, friends, being single and being a couple, setting up friends and babysitting, there's more to the story than make-believe fighters and elves that all readers will laugh with and relate to." Read more
—Amy Phelps, Parkersburg News
"I love this book, especially the mother."
—Judy Mazzanoble
Yes, No, Maybe: A collection of interlinking stories.
Work in Progress
Meet Madeline Wuzzy. Sarcastic, self-depreciating and socially retarded. For nearly all of her 28 years she has managed to ignore the Dr. Phil transcripts anonymously showing up in her mail, dodge her mother's not-so-subtle request to add "grand" to her Mommy moniker and fantasize about life with her soul mate— a comatose boy from New Mexico she's never met. Maddie has often felt trapped in her own version of a Judy Blume novel and that suited her just fine. Until now. Somewhere during the game Maddie must have earned enough points because she's shooting to the next level. Soon she's dealing with one friend's extramarital affair, another's unplanned pregnancy and her beloved mother's brush with cancer. All the while finding new and improved ways of driving away perfectly nice guys she's simply not interested in. Not until a heartbreaking loss plucks Maddie from life's sidelines does Maddie begin that love, even the kind you fall into, may be worth the fall after all.
Yes, No, Maybe is the story of one woman's coming of age. Finally.
Read excerpts here:
download pdf of Yes, No, Maybe