Excited to announce my next book is coming out on December 6th! Pretty sure it's the perfect size for a stocking, just saying. And if not, perhaps you could add "bigger stocking" to your holiday wishlist.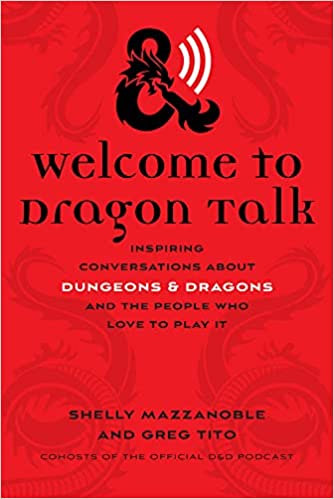 Welcome to Dragon Talk: Inspiring Conversations about Dungeons & Dragons and the People Who Love to Play It is my third book about D&D. What is up with that??? It also follows what has to be considered a tradition by now of having a very long subtitle. This one was co-penned by my friend and Dragon Talk co-host Greg Tito and dare I say, we had a lot of fun writing it. Diving back into the archives, reliving some of our favorite episodes, and finding ourselves inspired and excited and geeking out all over again. I even laughed at the same jokes as the first time! We really are lucky having spent all these years getting to talk to so many amazing people willing to share their time, talents, and passion for our little hobby. I hope that all comes through in the reading of this book. We're pretty proud of it.
Thank you for listening to Dragon Talk and soon reading about Dragon Talk (or even just reading this post about reading about Dragon Talk. That counts too.)
Welcome to Dragon Talk!