You've probably seen the website Text From Dog. It's pretty freakin hilarious. If you haven't seen it, go ahead and click that link and catch up. Go on. I'll wait.
Today a friend (ironically Zelda's ex-daddy. Remind me to tell you that story another time) said he thought I should "teach Zelda to text" and start Text From Cat.
First, I wouldn't have to teach Zelda to text. She probably already knows how. And could show me a thing or two if she weren't so selfish. Second, someone out there is posting IM's with his cat and well… that's probably enough.
And there's a third reason.
Posting text conversations between Z and I would do nothing but serve to humiliate me. Do I want the world (and by "world" I mean 3 people) to know I can't stand up to my cat? That I'm actually sort of scared of that 14 pound furball? That she says "give me your ice cream" and I do?
No.
I don't.
And just to prove that posting "texts from Zelda" is a horrible idea, I'll give you an sampling of our would-be exchanges.
Zelda: WHERE ARE YOU?
Me: I'm at work. Why?
Zelda: Why? Because you're stupid.
***
Zelda: I'M HUNGRY.
Me: Well, tough noogies, I'm at work. You'll have to wait until dinner like a normal cat.
Zelda: YOU'RE SO DOUCHEY. I HATE MY LIFE.
***
Zelda: SADIE IS EATING THE COUCH AGAIN. CAN I PUT HER ON PETFINDER?
Me: No, you may not. She's your sister. We'll deal with it when we get home.
Zelda:  SO YOU'LL PUT HER ON PETFINDER WHEN YOU GET HOME?
Me: No, she's not going on Petfinder. We're keeping her.
Zelda: YOU'RE SO STUPID. I DON'T BELONG HERE.
See? Not cool. Or funny. Or normal for a human to be bullied by a cat. Is it?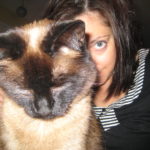 Zelda: YES, IT'S NORMAL. THIS IS YOUR LIFE. OWN IT.
Me: But–
Zelda: Move. I was sitting there.
Me: Yes, Zelda.