Finally!
Groupon, the fine people who bring you socks that sweep the floor and inflatable wrestling rings with a side of lube at major discounts (as if we need an incentive to buy them) have totally outdid themselves. This may be their best deal yet: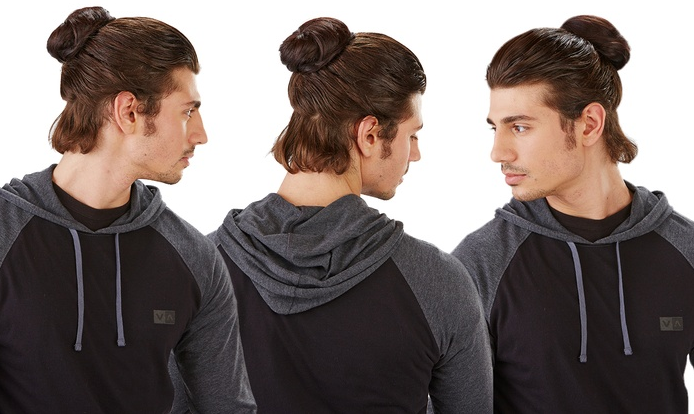 Ladies and Gentlemen, allow me to introduce you to THE CLIP-IN MAN BUN. That's right, guys, no more hipster hair envy. Now you too can look like a poetry major at a liberal arts school in upstate New York on a whim. Not enough hair to sport your own organic man bun? No longer a problem! Love the carefree, casual, I'm-probably-European-so-I-can-get-away-with-this-look but scared to commit? No worries! It's like a hall pass for your hair!
The man bun comes in three colors: black, brown, and blonde (sorry, gingers) and as some of the finest marketing copy I've ever read explains, "This attachable—and, equally important, detachable—man bun lets you blend in with your surroundings, putting it on when you smell fair-trade coffee or hear a banjo, and taking it off when someone utters the word bro."
That's right, guys. The makers of the CLIP-IN MAN BUN have thought of everything including the ability to breakaway your MAN BUN should you come up against some bun bullies in a dark ally or, say, a grocery store. Look, if you're man enough to purchase a synthetic man bun and clip that shit into your own hair, be man enough to own it! Don't bend to the bros. Bun up, man!
And even though it's not explicitly spelled out in the copy, THE CLIP-IN MAN BUN obviously serves another very important function: the ability to act as a disguise.
Check out Blonde Man Bun Guy: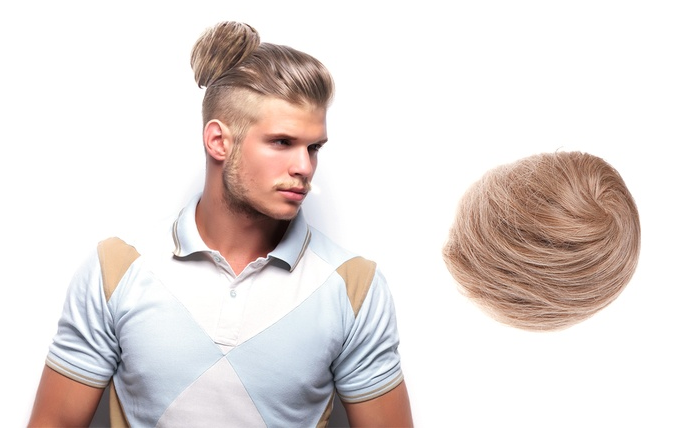 And check out his buddy, Brunette Man Bun Guy: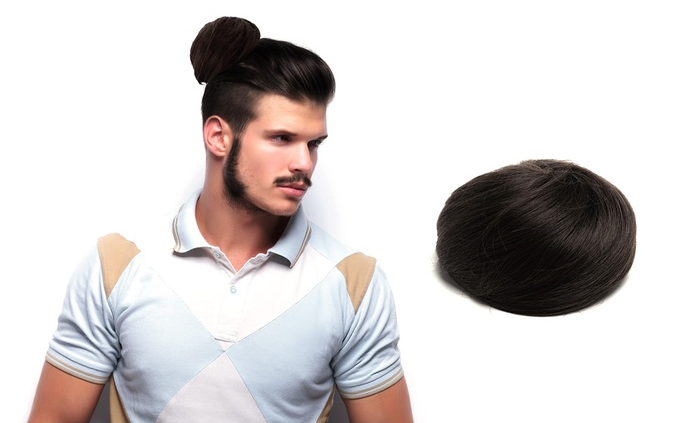 Ha! Gotcha! That's not his friend! That's the same guy! See? They're even wearing the same shirt! Fooled you, right?  Wait, is that a bra embroidered on his shirt? Is that also available? No matter. I just noticed they also sell CLIP-IN MAN MUSTACHE to complete your disguise.
I can not wait for the reviews on this product.
Some more quality writing from the marketing department details how to use this exciting new product. It's easy. All you have to do is, "Comb your hair back toward the crown of your head, in a similar motion to lacquering a reclaimed-wood coffee table…"
Oh! Got it!  Coffee table! Not end table. Lacquering, not decoupaging. Hopefully they've got a video tutorial.  Perhaps they could say, "Comb your hair back like you're putting it in a ponytail." No. Still confusing.
I am delighted such a product exists. And I am not alone.
Over 650 of the CLIP-IN MAN BUNS have been sold which leads me to two conclusions:
There are 650 more douchebags than I thought walking among us
Over 650 white elephant holiday parties were conceived thanks to this product
Order yours now! Please! And take pictures, bro.