I hated maternity leave.
There. I said it.
Again.
It's not a secret. I have said it before and I'll say it many more times. Maternity leave sucked. Or rather, I sucked at maternity leave. There was a time when I imagined my July-born baby and I would be all chilling at the neighborhood pool and lunching with my unemployed friends. Yeah, umm, no. (But hindsight is 20/20 so learn from my mistakes.)
Looking back I can't really say what was so awful. I just didn't feel maternal. I had no idea how to care for my baby and no confidence I would ever figure it out. When he cried I immediately panicked. Surely this was it. He was broken. He will cry for eternity. He will become an urban legend. Hundreds of years from now people will retell the story of the baby who never stopped crying because his mom was nervous. There is nothing I will ever do to soothe this poor child. I spent a large part of my day sending Bart passive-agressive texts because I was certain he was having a way easier time functioning at work on 2 and half hours of sleep.
Quinn was a good baby. (Still is.) But add that to the list of things I was clueless about. What I did know with 100% certainty was I couldn't hack being a stay-at-home parent. I have no idea how they do it and am constantly in awe. I counted the days until I could go back to work. My day job was way easier than this.
And then the sleep training kicked in and Quinn and I started to settle into  routine. I gained a bit of confidence. I even met a friend for lunch once. And wouldn't you know it? Right when I was really finding my groove it was time to return to work.
I remember bursting into tears as we were leaving the house.
"I don't want to leave him!" I shouted in our driveway. "He should be with me!"
Wiping the tears off my face and blowing my nose, we walked into the daycare we laboriously researched and into the arms of Miss Brenda– Quinn's teacher. (Miss Brenda has seen her fair share of moms on their first day back at work.) His classroom was spacious and serene. I half expected to see women in white terrycloth bathrobes enjoying a foot soak instead of Mamaroo swings and sensory tables.
I remember Miss Brenda's smile and how she reached her arms out for Quinn. His little body dressed in the cardigan (with elbow patches!) and bow tie adorned onsie nestled right into the crook of her arm.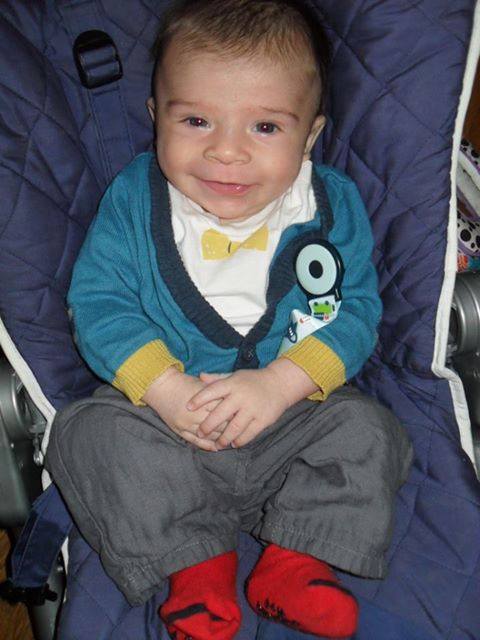 Yeah, okay, I thought. This feels right. This is where he's meant to be. And I remember having a great first day back at work.
Quinn's been in daycare since he was three months old. I know it can be a contentious subject but for us, it's a parenting win. That's all just a long, roundtable way to let you know the newest installment of my Mom in the Middle column is up. I bet you can't guess what it's about.