Stay at home mothers and fathers are freakin' rockstars only without the exceedingly high paychecks and entourage. Actually scratch that. They're more like the entourage– managing, protecting, catering to and anticipating the demands, follies, and triggers of petulant, oblivious egomaniacs. 24/7. It never stops. It goes on foreverrrrrrrrrrrrrrrrrrrrrrrrrrrrrrrrrrrrrrrrrrrrrrrrrrrrrrrrrrrrrrrrrrrrrrrrrrrrrrrrrrrrrrrrrrrrrrrrrrrrrrrrrrrrrrrrrrrrrrrrrrrrrr…
Quinn and I were both home sick yesterday and now I have a renewed appreciation for my job and my mom who stayed home with my brother and me (and let me tell you, we were assholes.) I was kind of looking forward to our time together. He's extra cuddly and prefers his lazy-ass mom over his funny and physical dad when he's not feeling well. I had a DVR stocked with cultural pillars such as Southern Charm and The Real Housewives of Dallas. I had a boatload of magazines to catch up on. Aches and chills be damned! Today was going to be a good day.
"Say what?" Asked every stay-at-home mother and father ever.
I love my kid which is exactly why I pay other people to hang out with him during the day. It's his best chance of survival. Trust. I can't be on my game 100% of the time. I am not to be counted on on every day, all day. I am irresponsible and distracted by shiny objects and reality TV. If I am within twenty feet of my bed, I will fall into it. I am powerless over the lure of a warm duvet and sateen sheets.
Case in point, our day began in bed where my delusions of grandeur had me believing we would spend most of our day like good, little sick people. A little Daniel Tiger on the iPad for him and quality Bravo television for me. And then I remembered this wasn't daycare and Miss Tobi wasn't  coming around with blueberry muffins so if my child was to eat, I better muster up enough energy to pop four mini waffles in the toaster and open a packet of string cheese.
"Can we watch Scooby-Doo?" He asked when I handed him his breakfast.
"Scooby's not on the iPad, honey. How about you play a game or watch some Thomas instead?"
"I do want to watch Scooby-Doo!"
I could sense tensions were mounting. Did I really want to get into it this early in the day or did I want to stay in bed surrounded by magazines and sugar free syrup? Choose your battles, right?
"Oh fine." I Netflixed Scooby and settled in with my Vegetarian Times. Hey! I'm home, I've got time. How about I make something inspired and healthy for dinner tonight? Something like Freekeh-Lentil Salad with Artichokes and Preserved Lemon. Yum! I'd have to go to the store for Freekeh, but that would be a nice, leisurely post-nap outing for us. I'm sure I'd be feeling better this afternoon and fresh air would be good for us. Sick days are the best!
"You're seriously cray cray, lady!" said every stay-at-home mother and father ever.
"Can I go downstairs?" Quinn asked.
"Right now? Scooby just started!"
"I want to go downstairs!"
"But whhhhhhhhhhhy?"
97% of his toys were downstairs and yet I was sure I could convince him to stay in bed and fall back asleep.
"Please downstairs right now!"
Here's the thing about my kid. While at times it appears he has no boundaries like when he whips open the shower curtain and asks what the hell that thing is or when he takes food out of his mouth and puts it on your plate, he clearly has a respect—no, a fear—of perceived boundaries. For example, he will not get out of his bed. Not a crib— a bed. He gets in it on his own, but when he wakes up he always calls for one of us to get him. It's like there's an invisible force field that keeps him rooted there. We didn't teach him this. In fact, we encourage him to get out of bed so neither of us has to get him on weekend mornings. But he won't. I'm told I should be thankful, but again—lazy mom.
So dear child wants to go downstairs and doesn't quite realize he can get off the bed and walk down the hall and go down the steps—AND HOLD THE RAILING FOR GOD'S SAKE ALWAYS HOLD THE RAILING— so he whines and kicks and rolls over on top of my face until I agree to take him downstairs.
"Oh fine," I said. There is TV and magazines down there too, I guess.
We play the current favorite game—Tower— where you stack a combination of Jenga blocks and Duplo bricks in a pile and then throw Matchbox cars at it. I build the tower. He throws the cars. We do this 4,032 times until he finds a new attraction.
"Want to play trains with me, Mommy?"
Oh boy! What I want to do is laundry or organize my summer clothes or Google Freekeh because WTF is it, but if your kid asks you to play and your mind doesn't immediately launch into the ultimate parental guilt trip anthem then you are a bit of a dick. One day my little boy will be too busy to take me to Walgreen's to stock up on Metamucil and Icy Hot or sit next to me in my 94 degree home and marvel at how Pat and Vanna have been hosting Wheel of Fortune for 329 years and hardly look a day over 75.
We do this for the next 2 years (or 8 minutes, whatever. Time speeds by in dog years when you're home sick with a toddler who is also supposed to be sick, but sure isn't acting like it) before moving on to the next game: Tackle. I'm not a fan of this game.
"But Buddy, Mommy doesn't want to be tack—"
After a few more body slams and moonsaults, I was desperate to get him off my back— literally— so I broke the glass and pulled the emergency alarm.
"Hey, do you want some ice cream?"
"YEAH!"
When I went upstairs to get the ice cream I realized it was almost lunch time. Time flies when you're getting repeatedly kicked in the kidneys! Well ice cream isn't the worst lunch but I should probably try to balance things out. Perhaps fish sticks and a side of orzo? Noodles with an alfredo sauce? Grilled cheese with rosemary ham? Nah, we didn't have any of that.
"MOMMY, I'M HUNGRY!"
I threw some Club Crackers and a Weight Watchers Giant Fudge Bar on a plate and hightailed it back to the basement.
Just as I was getting settled in on the couch with Us Weekly, we heard it. The telltale sign that something amazing was happening outside and we were about to miss it.
"MOMMY! GARBAGE TRUCKS!"
And the cat's in the cradle and the silver spoon…
So back upstairs we went to stand on the front stoop and watch the garbage man empty our trash and the trash of seven of our neighbors. Truly amazing experience. We are forever changed having witnessed this.
When the truck was out of sight, I convinced Quinn to watch a Curious George movie which was sure to buy me 56 minutes of quality magazine time.
"Mommy, I need water."
Oh right. The carb paste and diet chocolate I fed my child for lunch isn't going to wash itself down.  I'm totally nailing this caregiver thing.
I gathered up all the dirty towels I could find determined to do at least one chore today and threw them down the stairs getting them about 18 feet closer to the washer. Mission accomplished.
Six minutes into Curious George, Quinn wanted to go outside and play with Puppy.
Great. Just what the child and dog needed—time to play outside. Sigh…
On our way outside nature called.
"I need to poop, Mommy," Quinn said. "RIGHT NOW!"
I rushed him into the bathroom and got him situated with a Star magazine and pack of wipes.
Business complete, we pulled out all the bath toys and played with them on the bathroom floor for the next 30 minutes.
"You know," I began. "These are much more fun in the bath. How about we play another game? Like guess what cartoon is on PBS right now?"
"I'm hungry!"
"Great! Let's get you a snack."
But I forgot that "get you a snack" to a toddler means "open seven different food items and refuse them all"  The kitchen floor was littered with granola bar and gummy fruit wrappers, which I would have cleaned up had I not been interrupted. 
"Let's fill my surprise eggs!"
Little boy blue and the man on the moon…
First, let's discuss "surprise eggs." If you don't have a toddler you might not know about this bizarre phenomenon running rampant on YouTube.
Surprise eggs are those cheap plastic Easter eggs filled with cheap plastic toys and candy. (Also sometimes crystal meth.)
There are countless videos of adult hands cracking open these eggs and vocalizing what's inside. These videos have MILLIONS of views, (of which Quinn has accounted for at least 462,945.) When we're not watching videos of strangers opening surprise eggs, we're filling and opening our own surprise eggs and therefore have a zillion empty egg parts strewn across our home and 87,356 tiny toys to go in them. Sometimes Quinn pretends he's the host of his own YouTube show and will make you sit and watch as he slowly opens eggs and says things like, "I wonder what's in this purple egg. Oh look, it's Shaggy!" I fill the eggs, he opens the eggs. We repeat. Forever. I am Sisyphus and cheap plastic Easter eggs are my boulder.
When you comin' home, Dad, I don't know when…
Surprise eggs cracked, it was finally nap time and I cajoled Quinn to lay down with promises of stories about bad guys. He fell asleep mid-way through a story about a dinosaur who poops on everything, which was my only indication that he was actually sick. This kid loves it when dinosaurs poop on everything.
Once he was asleep I had designs on my own nap but spent two hours and twelve minutes listening to Quinn cough instead. (Second indication that he was really sick.) As soon as he woke, he asked for popsicles and a tennis ball for Puppy to fetch. I was so grateful he didn't choke on his phlegm, I shuttled him to the backyard with the whole box of frozen delicacies. Only Quinn wouldn't put down his Popsicle to throw the ball so it kept bouncing into the giant containers of potted bamboo, forcing me to plunge my bare arm into the bowels of dead leaves and spider webs to retrieve the stupid ball Puppy had no interest in fetching.
Next Quinn decided the front porch was where all the action was and he really wanted a cereal bar.  No, dummy, not THAT strawberry cereal bar. Or THAT strawberry one. THAT strawberry cereal bar. Good thing we opened three strawberry cereal bars to find the right one.
In lieu of eating the cereal bar, Quinn removed his crocs and threw them into the garden, the whole time asking if it was okay to throw his Crocs in the garden.
"No."
"Why?"
"Because birds will eat them and they will die. Do you want birds to die?"
"I don't know."
"No, you don't. We do not want birds to die."
"Why?
"Because birds are beautiful and we love them."
Puppy decided to eat the wayward cereal bar. As I tried to pry it out of his jaw, a pitiful wail emerged four inches from my left. Wanting to see if birds were eating his Crocs, Quinn leaned over for a better vantage point. Only he positioned his head between two balusters in the railing. Yep. You know it! Kids getting their heads stuck in a railing! That shit really happens– with mothers FOUR INCHES AWAY! Naturally he was panicky and crying because you don't have to be a responsible grown-up charged with the caring and protecting of a small child you grew in your body to know this was not good.  Know what else is not good?  Me in a crisis.
But the Universe and all that is divine clearly loves my child because I was cool as a Tuck's pad and somehow freed him with nary a scratch, bump or bruise on either of us.
"That was scary!" he said.
"And that is why you should always listen to your Mommy!" I said, because I never miss a teachable moment.
He moved on because toddlers are resilient but I was shitting my PJ's (OMG WHY WAS I STILL WEARING MY PJ'S?) and needed to stop shaking so I could send rapid-fire texts to Bart asking when he was coming home. Clearly I am not to be trusted with a child. I TOLD YOU!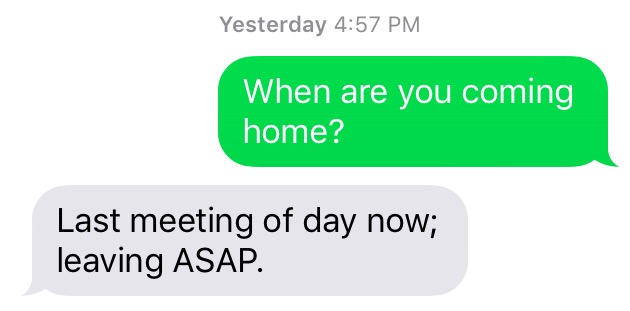 In the next 45 minutes we did the following:
Played in the driveway

Scolded Quinn for being too close to the street

Scolded Puppy for being too close to the street

Scolded Quinn for calling a family of three walking by "Poopy Head Underwears"

Tried to stop Puppy from eating 3 peanut butter crackers and the plastic wrapper they came in

Googled "what happens when your dog eats plastic wrappers?"

Went to the backyard

Went to the side yard

Went to the neighbor's yard

Went back to the driveway

Sat on lounge chairs and pretended to drive to work

Took all the tennis balls from our yard and threw them in the neighbor's yard

Freaked the eff out because we didn't have any more tennis balls

Clocked over 14,000 steps without leaving home
Bart came home to a frying pan full of onions
"Here's dinner!" I said. Damn, I'm productive.
He asked how I was feeling and I told him I was too exhausted to answer. I had more energy 6 seconds after Quinn was born.
"Maybe another sick day tomorrow?"
"Oh hell no!" I shouted. I could not wait to go back to work and relax.
When you coming home, son, I don't know when…
Oh STFU, Harry goddamn Chapin. You clearly never spent the day with a toddler.
"Word," said every stay-at-home mother and father ever.