So we haven't moved in yet (next Friday!) but we've I've already done quite a bit of shopping for the new house. Bart is very excited for two things:
1. He gets to see his stuff that's been in storage for almost 2 years.
2. He gets a mancave.
The mancave is important to me too. Why? Because it will have surround sound and when Bart isn't there I can hear the Housewives screeching at one another from every direction. AND it's a nice place for his.. stuff. I'm sure Walter Peyton on a Wheaties box will be happier hobnobbing with G.I. Joe and friends than with my collection of ceramic owls (which grew by one today!) and cashmere throw pillows. I mean, if I had to work Orcus or the Brian Urlacher autographed football into our decor I could. But the mancave is a much better place for that stuff.
That's all fine and good and really I'm not one to squash Bart's decorating dreams. He wanted a chalkboard wall in his office (also part of the mancave), then fine. I'll buy the chalk. He wants to paint the walls orange and blue in  honor of the Chicago Bears, great. Let me know if you need help picking out the exact blue. But today Bart emailed me a picture and asked if he could get this…thing for his mancave.  I think I finally have to put my foot down.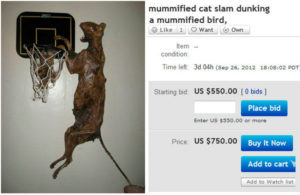 I don't understand this at all. I mean, who did this? Why did they do this?
"I think it's sheer awesomeness speaks for itself," was Bart's answer.
But I have to understand this. Where did the artist/previous owner keep it in their house? Why are they selling it? Do they have others? Will someone really pay $550 for this? Did the artist come up with this vision all on his/her own or did his/her cat have a fondness for slam-dunking birds into basketball hoops? Just…why? Why any of it.
Oddly enough Zelda is getting shaved tomorrow. I'm almost afraid to pick her up from the groomers now. Not just because she might look like a mummified, skinless chicken, but because she might safer there if daddy gets really into this design trend.