I'm disciplining my child!
This may not seem like news, or rather something that should be implemented 4 and 3/4 years after said child's birth, but it's happening. It is swift and merciless  and makes me feel like a fantastic mother!
But why now, you ask? Great question.
The other day in the heat of some old-school disciplinary action, I was looming over the child, threatening to suspend our weekly Saturday Target outings unless he put on some pants and stopped trying to feed the dog Legos, when the child looked up, shook his head, and said, "Jesus, you're mean."
I'm sorry, wha?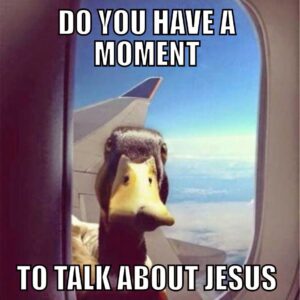 Seriously, kid. I was mean, but where'd you hear about Jesus?
"Repeat that?" I asked him calmly.
"Jeeee-zuuuuu–sssss, yeeeeerrrrrr meaaaaaaan," he said real slow because his mom was deep in middle age and kind of slow herself.
"Wait. You think I'm mean?" I asked. "Or Jesus is mean?"
So much to unpack here.
"You are."
"Well, that's fine. You can call me mean, but you can't just go around saying Jesus, okay? Great. Good chat, kid."
"Why?"
"It's not appropriate."
"Why?"
"Because it could offend people."
"But why?" Quinn asked again. "What's a Jesus?"
"Well,  let's see," I started. "Jesus was…uh…a guy who some people believe was a really good person who did some really good things and saying his name like that is disrespectful."
Nailed it! (You can totally crib that for your own kids.)
This might come as a shock given my very articulate and educated description of Jesus, but I'm not religious. I believe I'm what an online dating site would call spiritual but not religious. Religion to me should be crafted like an la carte menu. Believe in something from column A, dabble is something from column B, and dessert. Just try to do the right thing, don't suck, watch out for karma, earn good juju, put it out to the Universe, come back as a friendly ghost, learn from past lives…that kind of thing.
My parents made my brother and I go to church, Sunday school, get confirmed, have a first communion, cash a bunch of checks from relatives, and eventually only go to church on major holidays like Easter and Christmas Eve. Neither my mom or my dad goes to church now and while they definitely have their beliefs, they're not what I would call religious. That is until something seemingly innocuous like not getting married in a church or having the cleric from your D&D  game act as your officiant or NOT BAPTIZING THEIR GRANDCHILD causes them to burst into spontaneous religion.
The baptism…good lord.
This is how it was apparently supposed to go down:
Quinn exits my body
We immediately rush him to the shores of the holy river and cleanse that helpless child of all that icky original sin (And here I thought it was cradle cap.)
I guess we were just too selfish and preoccupied with all those trips to see lactation consultants and occupational therapists and car seat experts to grant our poor son guaranteed admission inside the pearly gates. I mean, what a life, right? Who wants to give that up? But whatever. When we went home to visit eleven months later, my parents got a friendly priest to do a baptism on a Thursday afternoon and I got Quinn a lovely blue seersucker suit. RITUAL COMPLETE!
After he called me mean (which I admit, I found hysterical), I told my own mom (whom was called much, much worse by her own offspring) the story.
"YOU TOLD HIM JESUS WAS SOME GUY?" she yelled.
"I'm not sure exactly what I said. But that's not the funny part. It was the context–"
"Jesus wasn't just some guy! TEACH HIM ABOUT JESUS!"
"Uhh, okay? But he's four and just starting to wipe his own butt so maybe I'll hold off on the Things to Know About Jesus talk."
"He needs to start learning now! He needs a basis! Can I send him books?"
I already knew how this ended. There would be books. So. Many. Books. But I reminded her again of his age. Sometimes Peppa Pig goes over his head so I'm pretty sure the Old Testament might be a titch advanced, but okay. I'll try to get her books into the rotation. We read to him every night before bed. Were these stories that much different than Thomas the Tank Engine getting schooled in responsibility or Wonder Woman putting some tiger thieves behind bars?
God bless Amazon Prime. Two days later The Miracles of Jesus and The Big Book of Bible Stories were on the porch.
"Juju got you some new books," I said, trying to build up the excitement. "About Jesus. That…uh, guy I was telling you about. Shall we read them?
"Nah. I want to read The Duck Who Played Kazoo."
"Okay," I said. "Another time." It is really hard to compete with a kazoo playing duck.
The next night I brought up the Jesus books again.
"Hey, want to hear about a super cool miracle?"
"Nope," he said matter of factly. "Not reading those. I want to read Teen Titans."
"You know," I said, unsure of why I was working this so hard, "Jesus was kind of a super hero. I mean, he apparently had some pretty rad powers. He could walk on water. Turn water into wine. Communicate with animals." (Actually I don't know if that last one is true. I might be getting him confused with the druid in my D&D game.)
But this kid wasn't buying the loaves or the fishes.
"Nope."
Oh well. I tried.
While Bart read Teen Titans, I cozied up with one of the Jesus books and read about Noah and the great flood. It was one of the stories I actually remembered because it was about animals boarding a giant boat by way of a rainbow gangplank. Pretty much the stuff all my favorite stories were made of.
Or so I thought.
Jesus god.
What in the actual hell?
Here's a slightly paraphrased version of Noah's Ark from Quinn's new Jesus book:
God said, "I hate all the people and they must be eliminated. I can totally do better next time! People are  stupid and violent. I'm over it, 'k?"
Noah said, "Sure God. I get it. What can I do to help? I also hate people."
God said, "Get 2 of each animal (male and female because duh. Hubba hubba), your family, all the food you can store, and get on your boat. I'll, uh, let you know when things are finished here."
Then God wipes out ALL THE PEOPLE AND ANIMALS! NOT A BIRD OR A BUNNY OR LITTLE BOY WAS LEFT! Goodbye stupid, violent people! The slate has been wiped clean! Good riddance! Noah sat on his ark for 601 million years before God remembered him out there and finally told him–by way of a bird holding a stick in its beak– that it was safe to come home. Order was restored. People got stupid again.
The end.
That one's gonna be a hard no. Definitely not right before bed.
Where was the peace and love and animal procreation? THERE WAS NO RAINBOW! How did I not know God was eliminating every stupid, violent living thing? Who is reading these books to children?!
Well, it's a good thing my parents had us both baptized because neither of us was getting into heaven on our test scores.