I know this will come as a shock to you and I don't want you to panic, but there's an asshat on the internet.
This one comes in the form of that big Dum-Dum*  who thinks maternity leave is a big, fat vacation. I know, I know, didn't the internet talk about this like days ago? Haven't way more articulate people ripped into her already? (Yes and yes for example.) Why are we even helping promote her stupid book anyway?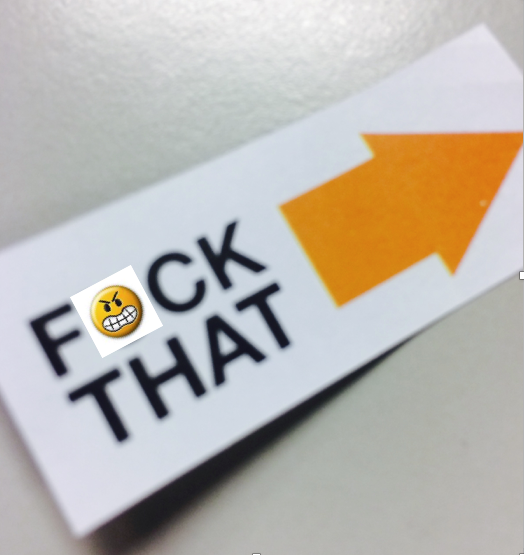 But I can't stop thinking about her Dum-Dum remarks. This has to be a publicity stunt by her publisher, right? I mean, no self-respecting woman who came to this Earth by way of a mother could seriously have those antiquated, far-fetched, Trump-like thoughts, could they? WTF does this little Dum-Dum think new moms are doing on maternity leave? Why is it she thinks she deserves in on that action– without the whole "having a baby thing", of course.
First, a little background in case you managed to avoid this Dum-Dum and the ire of smart, educated, supportive men and women around the world. This dumbass "worked hard" as an editor at a "popular magazine" and was "jealous" when her co-workers with kids "left the office at 6:00 to tend to their children." Unless this Dum-Dum thinks, "leaving the office to tend to children" is a euphemism for "going to drop loads of discretionary income on a wild night on the town" I'm totally confused by her envy.
But jealous she was and she parlayed her covetousness into a novel and then coined the World's Most Annoying phrase:  "Meternity leave."
What the snot sucker is "Meternity Leave," you ask? Great question. Here's how the Dum-Dum describes it:
"A sabbatical-like break that allows women and, to a lesser degree, men to shift their focus to the part of their lives that doesn't revolve around their jobs."
A sabbatical-like break! NAILED IT! That's exactly what maternity leave is like! I mean, what the hell do new mothers do with all that free time!
Wait. Maybe she's right and new moms are totally screwing up this precious time being all stressy and maternal and KEEPING THINGS ALIVE and not shaving their body parts. Let's see how the dictonary defines a sabbatical:
"Any extended period of leave from one's customary work, especially for rest, to acquire new skills or training, etc."
Yep. She NAILED IT!
I was definitely granted an extended period of leave (12 weeks) from my customary work. And I definitely acquired some new skills and training. Let's see, I learned how to function on 2 hours of sleep, dress an 8 pound human in tiny polo shirts and jeggings without breaking his bones, and figured out the best app (of which there are many) to track another living thing's poop and pee. I was trained in the art of coaxing a magical, life-sustaining elixir out of my body simply by attaching my sore, chaffed, cracked, swollen body parts to a hospital grade, high-speed suction machine at least EIGHT TIMES A DAY. I got to spend hours upon hours with nice doctors, nurses and occupational therapists trying to figure out why my child couldn't eat like a "normal" baby. Life skills, baby!
Rest? Well, that's probably not a big part of a sabbatical so we'll move on.
But wait, maybe she was looking at a different definition of sabbatical. Like maybe this one?
"A period of time during which someone does not work at his or her regular job and is able to rest, travel, do research, etc."
Oh yeah! That's more like it! Travel? We did that! Almost daily to the pediatrician's office and a few times to the nice lady doctor who snipped tongue-ties in her home. Sometimes I even made it to a Weight Watchers meeting.
Research? Did that too! How do I increase my milk supply? Will I ever bond with this tiny human? Will a tongue tie kill my baby??? 
"Focused on another part of my life that didn't relate to my job?" Hells to the yes! Wait, unless my job was caring for a tiny, helpless newborn. In that case, FAIL. But, nope. This Dum-Dum sounds like someone who has never cared for anyone but herself so I'm pretty sure "another part" means something like "doing your nails, learning a new language, taking a cooking class in Portugal." In that case, NAILED IT again! Damn, Dum-Dum! Are you sure you're not a mother?
Well, shoot. There's that rest thing again. Obviously I screwed up my sabbatical– I mean, maternity leave–oopsie again. I mean Meternity leave.
My mom recently asked if I remembered those early days of motherhood. I do, but mostly because of the old pictures stored on my phone. The memories I have aren't the ones I thought I would cultivate before I had a baby. Quinn was born in July so naturally I had visions of lazy days by the local saltwater pool and sipping coffee on flagstone patios with my unemployed friends. Quinn and I would grow closer in those 12 weeks than we were the 40 weeks and 3 days he occupied space in my belly.
Imagine my surprise when the mere thought of changing his diaper or putting a him down for a nap sent me into an anxiety-ridden inferiority complex.
Every time I hear our neighbors in their backyard I'm taken back to a time in the seemingly darkest part of the night, when I paced back and forth in the living room awkwardly trying to comfort a crying baby back to sleep and not wake Bart who had to get up in a few hours to go to work. I remember having the windows closed even though it was mid-August and hot because god forbid anyone hear the sounds a baby makes. I heard laughter, saw the raising and lowering of plastic martini glasses, smelled cigarettes and barbecue. Life was going on all around me. Talk about envy.
I remember watching a lot of Bravo television. Like a lot. (Which is totally what I would do on a real sabbatical.) I remember sitting in the living room in the middle of the warm, sunny afternoon with the blinds drawn so my neighbors or the lawn guy wouldn't see my bumbled attempts at nursing or worse, me attached to the breast pump.
I remember being awake at 4 AM and watching Quinn lying on the blanket I picked up at a garage sale for $1, cooing, eyes wide with delight at the new things surrounding him. I remember thinking "this is my life now. This is how it will always be. Upside down and turned around. I want to sleep so bad."
I remember binge-watching Orange is the New Black with my husband, trying to relax and pretend things were normal again but really we were waiting on pins and needles for the alarm to go off. Every time Quinn woke up, we were sure we'd never get him to sleep again.
I remember really wanting a glass of wine, but the math of trying to figure out when was the exact right time to have alcohol between pumpings and how long I had to drink it was too exhausting. 
I remember wanting to close my eyes, but I dreaded being woken up.
I remember thinking everyone else was way better at this crap than I was. I remember how I used to not care about things like that (see: admitting math is too exhausting) and mad that this bothered me now.
I remember feeling incredibly alone even though my husband was right there and my friends were always on call.
I remember feeling disappointed when my doctor declared me perfectly sane and said all these feelings were "normal." Sigh…I guess this was just me then.
But it wasn't just me. I mean, it was and always will be. It was normal and healthy and scary and terrifying and thankfully temporary. But it wasn't a sabbatical.
So yeah, Dum-Dum, Meternity time sounds like a hoot. Self-reflection up the ying-yang. I do hope that one day Ms. Dum-Dum finds someone willing to procreate with her so she can make her co-workers pureed-pea-green with envy when she clocks out at 6 for some R&R with a newborn. And I really hope she spends her meternity time self-reflecting on the ginormous asshat she once was.
*Edited because when I read this back the word I used to describe her was too mean even for me. So you know, I'm all class, baby.